Winter Week ends in a blizzard, but JV Ball snowed in Hamden!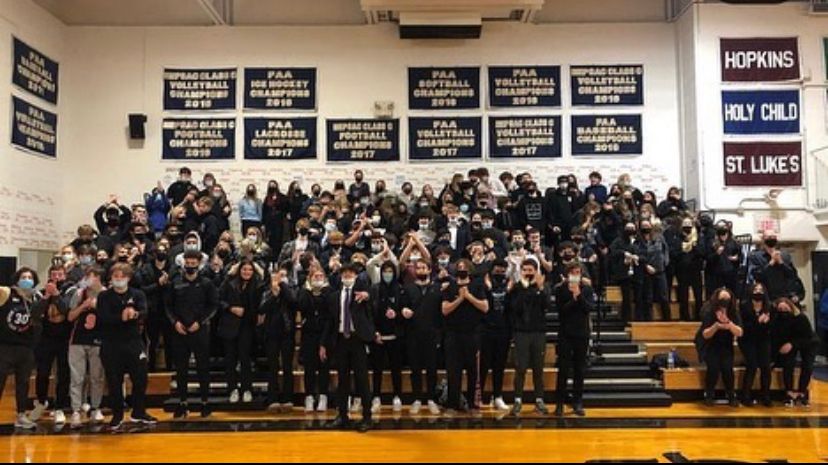 After a long week of dubiously themed dress down days, non-stop hockey games, and some very publicized mask violations, we Vikings were ready for a great weekend full of sports. Unfortunately, the Nor'easter foiled our plans and the majority of Winter Week games were cancelled, but there are still some great opportunities to celebrate and cheer on Viking achievements!

I don't think it would be right to start this article off without discussing the absolutely show-stopping basketball win over Hamden last Friday. Improving to 8-1 on the season, the JV Boys Red Team put on an absolute clinic in their 67-36 victory backed by an electric student section. This was a truly impressive display of school spirit with over 100 fans in attendance and Mr. Roche on the PA. Headed into next week, the boys are set to take on GCDS in a highly anticipated game to culminate a long week of online hype and trash talk. If you are able, make your way over to the US Gym at 3:45 today for what is sure to be a lively game.
In other news, King's JV Blue Basketball has been on an absolute tear in their own right, with a big win over GFA on Monday. The boys tacked a 7th win onto their undefeated season in a convincing 57-42 road victory. Keep on the lookout for more from these guys as they continue on their roll with no signs of slowing down.

The JV Ball guys aren't the only ones who are making moves, though. Both Varsity Basketball teams also notched up key league victories over RCDS for the guys and Harvery for the girls. The Girls Basketball team is now on a four game winning streak with their 46-40 comeback victory on Tuesday. Similarly, the boys also put on a strong performance, with a rumored record of 16 3-pointers for the guys. Shoutouts to Nasir Pettigrew and Carson Pearlman for their 20-plus point games!

King Hockey has also been having an eventful season so far, remaining undefeated in a huge win on Monday over Harvey. Although some insiders on the team have complained about the schedule's rigor and game frequency, the boys seem to be handling the pressure well with win after win. Shoutout to sophomore goalie Charlie Allard for his 37 save game, allowing the Vikes to hang on for a 4-3 win last week against RCDS. In an impromptu lunchroom interview, Coach Savage highlighted the team's depth and said they plan on "keeping up the good work" heading into their game this Friday at St. Luke's. Coach Savage would like to thank the fans for their "amazing support this season," so make sure we continue that and show out to Stamford Twin Rinks on February 9th for a huge home rematch against RCDS. I know I'll be there!

It wouldn't be a full article without talking about every team though! The Squash Squad has been working hard under the leadership of Captains Mischa Kandel and Ben Persily with a nice win Monday against Hopkins. Make sure you show out to MSquash for their game tomorrow against GCDS, these guys n gals have been quietly hard working all season!

Also, there are plenty of games coming up across all sports this week, so make sure you show up in numbers to support our teams!

Boys Basketball:
Varsity vs. GCDS Home, @5:00, Thursday
JV Red vs. GCDS, Home @3:45, Today
JV Red vs. Brunswick, Away @4:00, Friday
JV Blue vs. GCDS, Away @4:30, Thursday

Girls Basketball:
Varsity vs. RCDS, Home @4:45, Friday

Ice Hockey:
Varsity vs. Brunswick, Home* @4:30, Today
Varsity vs. St. Luke's, Away @3:30, Friday
*Hockey home games are held at Stamford Twin Rinks

Squash
Varsity vs. GCDS, Home @4:00, Thursday*
*Squash home games are held at the MSquash facility in South Norwalk